What's Your PR LEADS Success Story?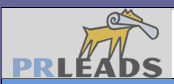 I need to do a better job of telling my story and I need your help.
If you've gotten work, a book contract, a speech or any other result from the publicity you've received through PR LEADS, then I'd like to help you promote your success story!
For example, I blogged and wrote a press release for these clients:
Lingerie Company Increases Sales by 65% Thanks to Publicity from PR LEADS
Intuition Author Credits PR LEADS with Landing New Book Contract
PR LEADS Helps Organic Chemist Get Publicity in National Magazines
What's in it for you?
More fame and publicity!
These press releases ranked very high (and I mean first page) for the search terms. That means more people will find you!
Interested? Go to my Facebook page and write two sentences about your success. I'll contact you with the next steps.
Share your success at
http://www.facebook.com/prleads
Oh yes, there is no fee to you. This is about me helping you and you helping me. Isn't that the way life is supposed to be?
Share your success at:
http://www.facebook.com/prleads