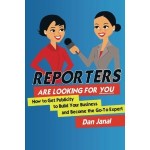 Who designed your book cover?
My new book, "Reporters Are Looking for YOU!" has been out for a few weeks now and people are asking me, "Who designed your book cover?"
The answer is the amazing Jim Kukral. You can see the cover here I picked the art, but he skillfully arranged the very long subhead in a very artful manner. I thought that added real, super real value. If I had put it sentence style (as most people do), it would have been next to impossible to read. That's the kind of talent Jim brings to the project.
Plus, he's affordable! Most book cover designers charge thousands of dollars. Jim charges only $199! And he supplied 3 different ideas to choose from. For more info, go to http://ow.ly/9za64
Jim wrote a great article on how to get your book noticed on Amazon a few weeks ago. Here's the link:
https://www.prleads.com/how-to-get-your-book-cover-noticed-on-amazon/