The books you read will have a profound impact on your life, your business and ultimately your bottom line.
Because of that, I really, really felt I needed to share this one with you and encourage you to get yourself
a copyóespecially today.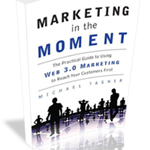 The book is called Marketing in the Moment: The Practical Guide to Using Web 3.0 Marketing To Reach Your Customers First.
Are You Ready for Web 3.0 Marketing? This book reveals how to plan and execute a breakthrough Web 3.0 marketing campaign.
Both consumers and businesses have shifted the way they purchase products and services, but more
importantly, they have shifted the way they research and find these products and services both online and off.
While marketers cling to the familiar online resources the next wave ñ Web 3.0 ñ has swept past, and left them high and dry.
This book serves as a complete, practical, no-fluff desk reference to next generation online and mobile marketing.
Today is the official launch of the book, and because of that, you're in for a great treat and some amazing bonuses.
Anyone that buys the book today is going to get bonuses from some of the top marketers in the world including
Jay Conrad Levinson, The Father of Guerrilla Marketing.
And to top that, anyone that buys only five books will receive a ticket to attend Michael's next live event.
http://marketinginthemomentbook.com/launch <- Go here to get a copy now
Companies of all sizes can learn to successfully utilize the web, mobile marketing, and social media. Tasner
helps marketers, entrepreneurs and managers move beyond hype and high-level strategy to proven tactics and
successful ground-level execution. He distills all of todayís new options into the key trends that offer the
greatest opportunities for todayís marketers. Each chapter lists an explanation of the topic, the opportunities,
specific methods to implement, a case study, to-do list, as well as tips for success.
Inside Marketing in the Moment:
ï The Mindset Shift: From Web 2.0 to Web 3.0
ï Are You Ready for Web 3.0 Marketing?
ï Content Marketing: Understanding and Capitalizing on the Drastic Shift Taking Place
ï Mobile Marketing: Tapping into Billions of Cell-Phone Users
ï Virtual Reality Worlds: The Hows and Whys to This Unique Marketing Universe
ï Video Marketing: Taking Video to the Next Level
ï Web Applications: How to Effectively Use Apps in Your Marketing
ï Open-Source Code: How to Find and Use Othersí Hard Work for Maximum Impact
ï Collaboration: Connecting and Sharing Data at Lightning-Speed Paces
ï Web 3.0 Companies
ï Your Action Plan: Putting it all Together and Taking Action
Today is the best day to grab the book so you can snag the bonuses and the live event offer.
http://marketinginthemomentbook.com/launch <- Go here to get a copy now