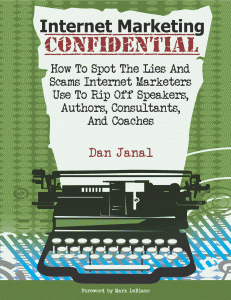 People have been asking me what my book launch strategy is for "Internet Marketing Confidential: How to Spot the Lies and Scams Internet Marketers use to Rip Off Speakers, Authors, Coaches and Consultants."
I'm flattered, of course that people care!
But my strategy will defy conventional wisdom.
Of course.
You'd expect nothing less from me.
Here's what I'm NOT going to do:
1.     I will not offer 100 bonus PDFs and MP3s from hundreds of other people. Now you won't have to feel guilty when you don't read or listen to those products you really didn't want in the first place.
2.     I won't pester you by sending dozens of emails begging you to buy my book.
3.     I won't guilt you into buying the book by saying 20 percent of the proceeds go to charity.
4.     I won't claim I need your help to be #1 on Amazon.
5.     I won't have a leader board of people who have sold the most books.
Why?
I don't believe you can force people to buy anything.
I believe people act out of their own self interest.
So I'll tell people that the book will help them save money and make the right decisions about marketing their products.
And if they like the book, they'll tell a few friends.
And those friends will buy the book.
And they'll tell their friends.
And the book will sell.
Or it won't.
Here's what I plan to do:
·      Pre-launch announcement to blog and ezine readers with discount (that's you!)
·      Official launch at Judith Briles' Author U Extravaganza conference
·      Write press release to help SEO.
·      Create separate press releases targeting each market: speakers, authors, coaches and consultants
·      Tell friends
·      Tell ezine readers
·      Tell social media communities
·      Tweets with hashtags to #marketing, #authors.
I suppose the best news, though, is that people have volunteered to help me promote the book to their audiences., and I didn't even ask them.For example:
– Vickie Sullivan offers a blog post and printed my preface on her blog.
– Shawne Duperon offers to tweet.  If you'd like to help and tweet, let me know and I'll send you samples that won't make you gag.
– Numerous people offered testimonials, which appear in the book and back cover, to give credibility to the book. I'll ask them to post their comments again to the Amazon book page so new people can see their praises.
– PR Newswire offered to host a Twitter chat
In other words: Word of Mouth Marketing trumps all the psychological ploys ever devised.
Cream rises to the top.
At least, that's what I'd like to believe happens in a perfect world.
Stay tuned.
I'll let you know if that works!
I sure do hope you can sell valuable information without hitting people over the head!