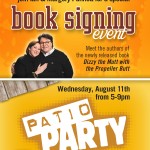 Would you hold a book signing at a restaurant?
That's what Ian & Margery Punnett, authors of  "Dizzy the Mutt with the Propeller Butt" are planning to do on  Saturday, August 7th from 9am-11am, at the Longfellow Grill in Edina, MN.
You gotta go where the buyers are, and if they think  that's the place to sell books,, then more power to them! Let's use this example to inspire all of us authors who are looking to sell more books.
Self-publishing guru Dan Poynter is famous for saying "bookstores are the worst places to sell books." Let's see if the Punnetts are on to something big and glorious that we can all learn from!